Posted by Adam on 11th Mar 2023
First of all, you're on this page now, so congratulations on finding a real local florist in Havertown PA!
I wanted to talk about the black eye of the floral industry and share some easy tips to make sure that you place your flower orders direct with the local florist, and avoid using deceptive order gatherers. These online floral predators, claim to be your local florist, and basically act as a middleman, and also charge you a service fee anywhere from $14.99-29.99 on top of what you spend on the flowers. They then try to farm it out to a florist in their wire service to fill the order for you. In some cases, those orders do not get filled in time if at all! We get calls every week, from disappointed web shoppers, who were tricked into ordering from some of these large corporate companies (order gatherers), when doing a simple search for "Belvedere Flowers" or "flowers havertown"
Here is a few screenshots from my phone, showing searches for "Belvedere Flowers" & "flowers havertown"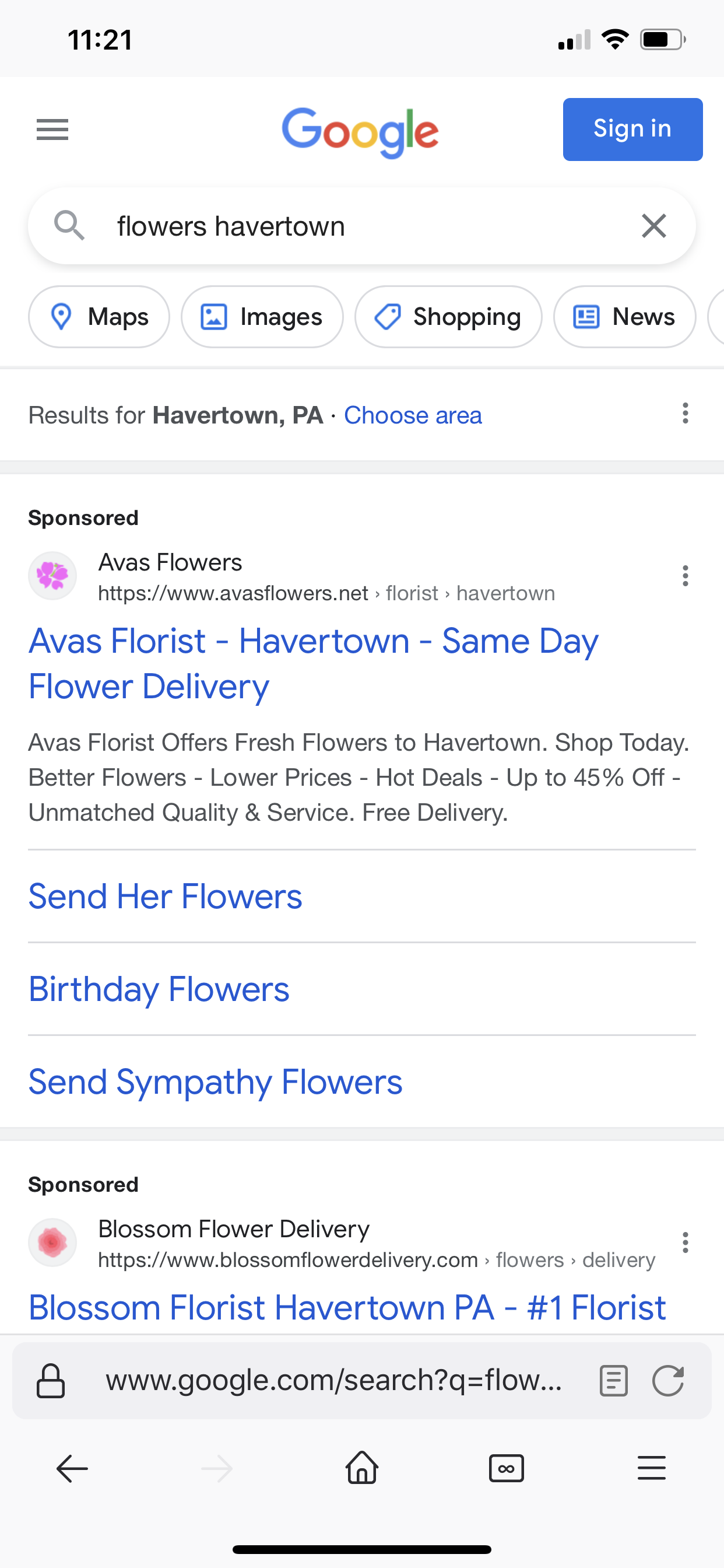 As you can see there are "sponsored results" that always show first in searches.
1. Avas Florist - (says "Havertown Florist" Same Day Delivery) Ava's Flowers is one of the largest order gatherers in the country, and they have been doing it for decades. They are not a florist in Havertown, they are not going to personally create and deliver your order for you. They are a middleman that's part of a wire service such as FTD, they will take your order, charge you a service fee, and then try to farm your order out to a filling florist in the town the order is going to. The filling florist also gives a 20%-28% cut to Ava's through the wire service, and then has to fill the order "to value". Unfortunately, the customer already loses out on service charge, and now is at the hands of a desperate filling florist to create their flower arrangement at a discounted price. As I have said, we get calls all the time from shoppers who tell us about their horrible experience using these floral companies. Expressing disappointment in the product delivered, if even delivered at all!
2. Blossom Florist- again, ummmm, they are not a 'Havertown Florist #1 Florist", not even close! Same as Ava's, and for all I know, could be another Ava's , just using a different name. These Flower OG's are really good at spending lots of money on sponsored ads, so they can be seen in every town across the country, and gather as many orders as they can from online flower shoppers. In this case using keywords "florist" "flowers" "belvedere" "pa" "flower delivery"
So you see the top 2 sponsored ads in the screenshot above. You must avoid these sponsored results and look for the local places results below that. There you will find real local florists!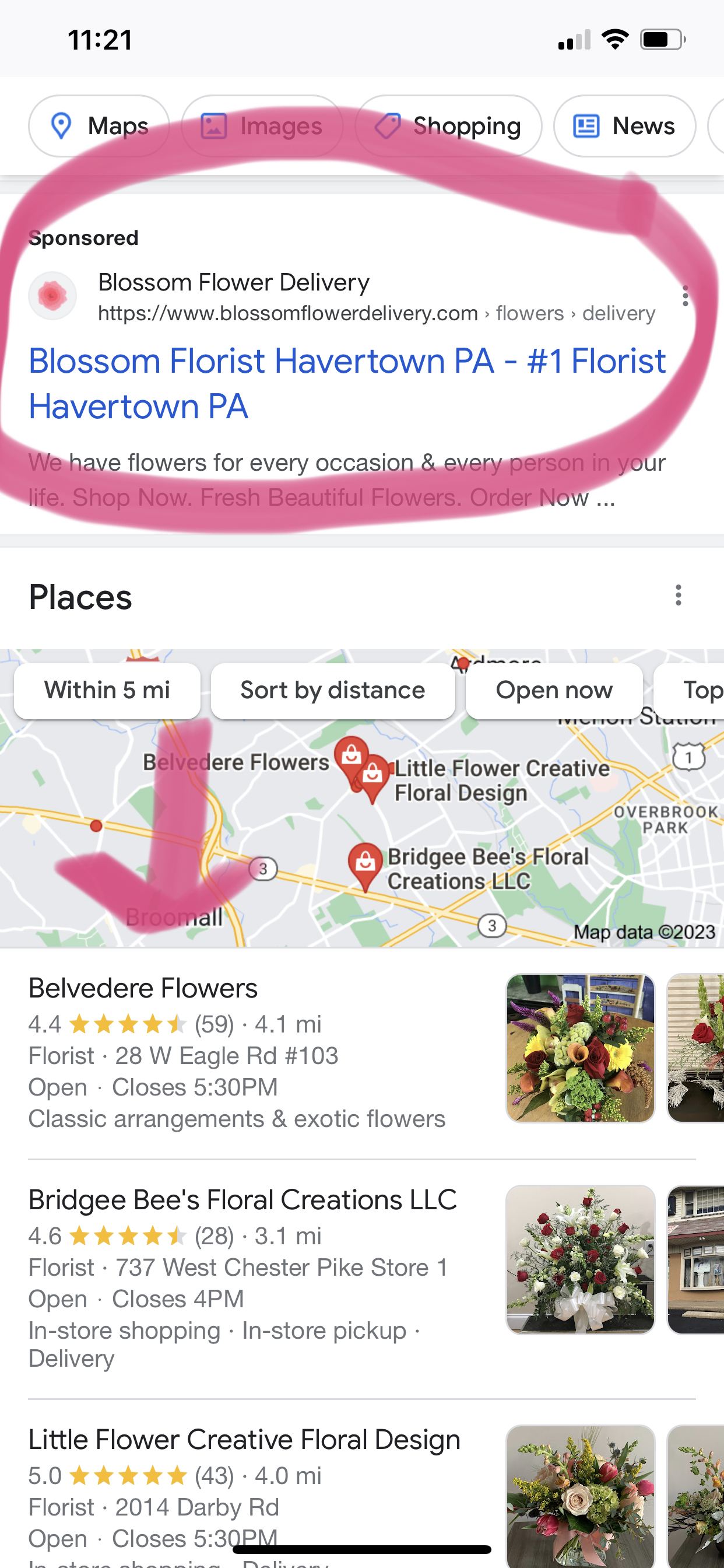 Ok, so you want to choose from real local florists such as myself, Belvedere Flowers, or we also love our other local shops and also recommend them, Little Flower & Bridgee Bee's are also great choices!
Stay away from the OG's such as Blossoms, Ava's , From You Flowers, FTD, Teleflora, 1800Flowers, etc.
Here is another screenshot below done from someone else's phone, for the search "belvedere flowers"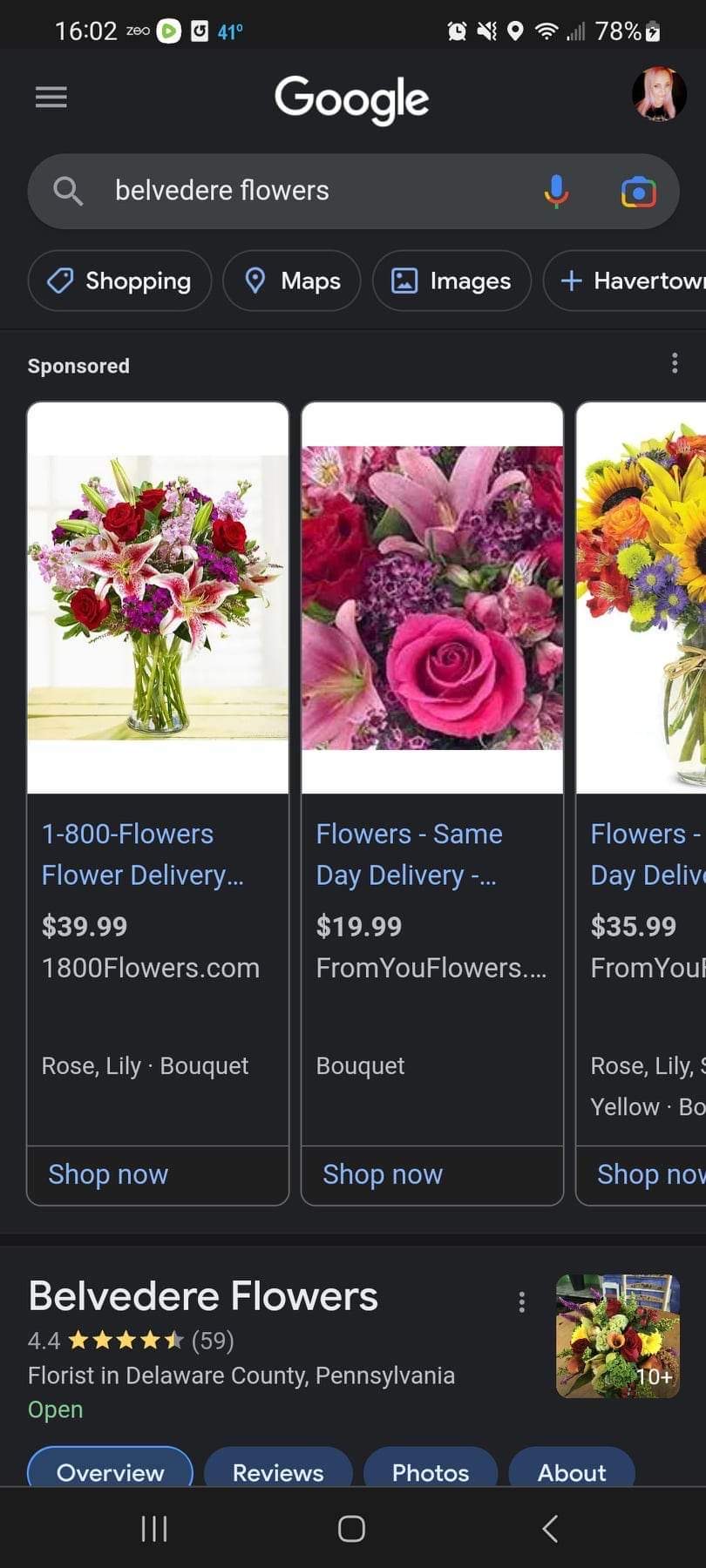 As you can see, again, the top sponsored results are-
From You Flowers, From You Flowers, & 1800Flowers...
notice how they suck you in with the low prices of $39.99, $19.99, $35.99...those prices are not realistic to photo shown, as most flower arrangements start at $59.99 and up for anything substantial. Also as said before , after you get through the order process, you will see the price go up, and the service fees added, and then the disappointment of flowers being delivered a day late, if at all! They will happily offer to re-send for you, or refund your money and apologize, and offer you future coupons, but really, all you wanted was for your flowers to be delivered fresh, beautiful, and on time!
You can see us, "Belvedere Flowers" below the 3 sponsored ads in the screenshot above. A "Real Local Florist" serving all of Delaware County PA, and parts of surrounding counties such as, Montgomery County PA, Chester County PA, Main Line, Philadelphia PA. We are family owned and operated for over 60 years. Shop online or give us a call and ask for myself, Adam, or my mom, Eileen will be happy to take your order.
We hope this little blog post helps those find a real local florist when sending flowers across the country or locally. Remember, avoid wire services such as FTD, Teleflora, 1800Flowers, etc. and avoid all "Sponsored" ads at the top of page, find the local address of florist listed, check the reviews , if needed, and try calling the florist direct, if you would like to hear a voice on the other end!
Shop smart, you deserve the best! There are so many creative florists across the world, working hard to survive, make sure your order goes direct to them! Shop Local!