Meet the Family at Belvedere Flowers-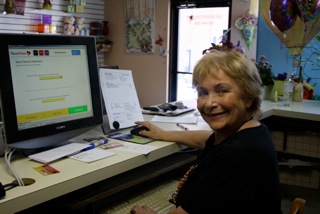 That's my mom, Eileen.
She has been selling flowers for over 40 years now!
Here she is, entering an order on our awesome
Floristware
point of sale system. When you give us a call, there's a good chance you will hear her beautiful voice on the other end of the phone :)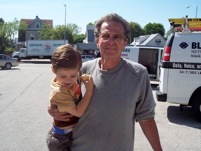 Above, that's my dad, Jack, carrying my son, Max, into the flower shop. Jack is officially retired, after doing this for over 50 years. We bring him out of retirement all the time to help us with flower deliveries, making corsages, taking care of the plants, and help out wherever we need him. You can see him all over our You Tube Channel, being put to work :)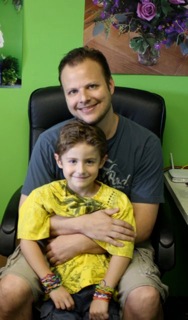 That's myself, Adam, and my son, Max, hanging at the shop.

I have been designing flowers and managing the flower shop here in Havertown for over 20 years.
Aside from ordering the flowers, creating designs, answering phones, taking out the trash, and telling everyone else what to do all the time, I also take care of this website :)
How about a little history...below is a real old photo of the Bellevue Stratford Hotel on Broad & Walnut Street Philadelphia, where my parents flower shop used to be located back in the 1970's.